THE AETHERIUS SOCIETY
I read the arguments against God in superb mastery of scientific logic.
Some have a natural conviction. Others believe as insisted and trained in religious systems of piety and ignorance, as in the saints of yore.
Proof is offered through Yoga and meditation. You can go to India and stay with a Master, like many celebrities of the last century. It is not easy and requires dedication and self discipline.
You may be drawn into it and meet a Cosmic Master and become involved in what has become referred to as ''The Quest", through The Aetherius Society. I became a member from meeting George King who was a Master of Yoga. I learned from him direct how he would roam the skies at night in spirit, and whilst orbiting Sirius had the idea of the Triangle added to the ancient Hindu symbol as the Creative Activity and adopted it for the Society.
As in all aspects of Truth his actions and self sacrifices remain unrecognized by the world. The Masters of Saturn seeing the future arranged for him to be here at the right time, requiring permission from the Lords of Karma. Karma was manipulated for this.
George King was in fact the most important man of the 20th Century, being an aspect of a Cosmic Master on Mars revealed in his last days, involved in saving the planet from invasions only to be found recorded in the annals of The Society.
A Spiritual Commando Force was drawn together for the foundation of The Aetherius Society in 1955, and became important for the foundation of a Future New Age which started on July8th.1964 in a great metaphysical manipulation of power in space around the Earth. This is called "The Primary Initiation of Earth", since then its vibrations have been increasing.
The formulation of the Society required involvement with metaphysical operations in cooperation with Planetary Adepts, continued by those senior in commitment and initiation. Elements of secrecy in this regard to these had to be adopted and the modus operandi of storing spiritual energy in batteries reserved for expression saving lives in world calamities.
Charging mountains are described in the history of George King (Operation Starlight), laying a foundation of power in eighteen mountains, the nineteenth Kilimanjaro was charged by another Cosmic Master at the dangerous time of civil war.
As time went on it became expedient to introduce a system of merit for membership based on memorising the annals of the A.S. and a period of full time service. As this required residence nearby for daily access many of those who had spent years were not allowed, and there remains some resentment there.
In addition a Church was created in the name of Aetherius with Priests and Bishops. Different coloured gowns signifying seniority are now worn. George King became Archbishop and was photographed in the red robes reminiscent of the Catholic Church. As it was from instructions higher up I am in no position to question. I remain however, feeling uncomfortable with the idea but living overseas it does not matter. I remain a member, as the last of those who were present for The Twelve Blessings.
Contrary to expectations the A.S has continued to grow in different countries with a website full of information with bobcasts and videos. A form tantamount to membership is invited as, " Friends of the Society", open to all forms of religious persuasion without any form of dogma or payment. It is recommended for any who feel the need for friendly spiritual guidance, especially Christians who no longer go to church, or seek more than is in the Bible.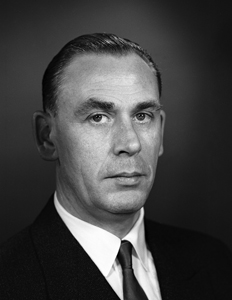 Picture of George King (1919-1997)